Links of Interest:
Read about late-season Arctic Research and how it reveals unseasonably warm ocean temperatures and an active ecosystem
Watch an interview with Piper Bartlett-Browne, teacher at St. Thomas Aquinas High School, Dover NH, USA, at the end of her PolarTREC experience aboard the USCGC Healy, August 2019
Jackie Grebmeier was awarded the 2015 International Arctic Science Committee medal. As quoted from the IASC website: "IASC is pleased to announce that the 2015 IASC Medal, which is awarded in recognition of exceptional and sustained contributions to the understanding of the Arctic, goes to Jacqueline Grebmeier.
The IASC Medal Committee reviewed the nominations received and unanimously decided to honor Jacqueline Grebmeier for her exceptional contributions to the understanding of Arctic benthic ecology and marine ecosystem dynamics; her pioneering work interpreting geochemical and stable isotope measurements in sediments; her commitment to the establishment of long-term observatories through international collaboration; and her outstanding leadership and mentorship within the Arctic science community."
Jackie Grebmeier and Lee Cooper received the Alasakan Ocean Leadership Award in January 2015 from the Alaska SeaLife Center. The awards are given annually to individuals and organizations that have made significant contributions to the awareness and sustainability of the state's marine resources.
Pacific Arctic benthic taxonomic website available. Dr. Monika Kedra from the Institute of Oceanology, Polish Academy of Science, is an international collaborator in the DBO, working with Dr. Jackie Grebmeier on benthic taxonomic issues. She has prepared a benthic taxonomic portal for organisms collected in the Pacific Arctic region. To access the site, see: http://www.iopan.gda.pl/projects/DBO/
Quotes from Jackie Grebmeier and Lee Cooper in Earth: The Science Behind the Headlines magazine - Endangered Icebreakers: The future of Arctic research, exploration and rescue at risk
Jackie Grebmeier quoted in Science magazine - Boom & bust in the Great White North
Click here for sea floor video from the Sir Wilfrid Laurier cruise, July 2016 and here for July 2017 and here for July 2019
Three recent examples of student M.S. theses completed through the Marine Estuarine Environmental Sciences Program of the University of Maryland, College Park for work within our research group are those of Christina Goethel (PhD student, UMCES Chesapeake Biological Laboratory), Lisa Wilt (now employed with MRAG Americas, a contractor for NOAA's Northeast Fisheries Observers Program, and Laura Gemery, a scientist with the US Geological Survey in Reston, Virginia. Download below:
IMPLICATIONS OF OCEAN ACIDIFICATION FOR THREE PACIFIC ARCTIC BIVALVE SPECIES (Christina Goethel)
CALORIC CONTENT OF BERING AND CHUKCHI SEA BENTHIC INVERTEBRATES (Lisa Wilt)
SPATIAL AND TEMPORAL VARIABILITY IN BENTHIC OSTRACODEASSEMBLAGES IN THE NORTHERN BERING AND CHUKCHI SEAS FROM 1976 TO 2010 (Laura Gemery)
Scientific data generated from our projects and our previously funded work are freely available for use by others from the National Science Foundation-funded Arctic Data Center. We are engaged in a continuing effort to make all of our publicly funded, quality-assured research data available in a reasonable period of time. Please feel free to contact us if there are needs we can meet.

Teacher and Researcher Journals From the Bering Sea:
Betty Carvellas' log from our July 2010 Sir Wilfrid Laurier trip from Victoria, B.C. to Barrow Alaska. Includes images from the ship.
Polar Sea 10-01 cruise field notes maintained by the North Pacific Research Board (http://bsierp.nprb.org/fieldwork/2010/polarsea01.html)
J.C. Parks Elementary School (Indian Head, Maryland) teacher Deanna Wheeler's log from our Healy 09-01 cruise (PolarTREC site)
Anchorage teacher Craig Casemodel's log from our Healy 08-01 cruise (PolarTREC site)
J.C. Parks Elementary School (Indian Head, Maryland) teacher Deanna Wheeler' gave a preview of her presentation at the Montreal International Polar Year Meeting, April 2012 (YouTube link)

Mass media clips and articles:
ABC News Good Morning America Weekend feature on teacher Deanna Wheeler's experience
Plenty Magazine Article on Walrus Tagging and Bering Sea Change (.pdf file)
Walrus tagging efforts from Alaska News Nightly (Public Radio .mp3 file)
Baltimore Sun article on Healy 09-01 (.pdf file)
On Thin Ice Blogs from Healy 09-01 (http://ipy.arcticportal.org/feature/item/2158-on-thin-ice-in-the-bering-sea and http://ipy.arcticportal.org/hidden/itemlist/user/1020-tomlitwinonthinice) by Thomas Litwin (Smith College) and Tom Walker (writer, photographer, Denali, Alaska)
On Thin Ice Vodcasts (video podcasts) hosted by Public TV NOVA series and WGBH in Boston http://www.pbs.org/wgbh/nova/extremeice/thinice.html
Filmed in part on Healy 08-01. "On Thin Ice in the Bering Sea" is a production of Florentine Films/Hott Productions, Inc. in association with the Clark Science Center at Smith College. Produced by Lawrence R. Hott and Tom Litwin.
Encounters North Podcast recorded on Healy cruise 09-01 by Elizabeth Arnold (.mp3 format) http://encountersnorth.org/audio_files/Encounters_Ice_Algae.mp3
Nature's Edge Podcast (ABC News) recorded on Healy cruise 09-01 (.mpeg-4 video)
Video clips of Bering and Chukchi Sea bottom (20 MB, Quicktime .mov format)

In additon, some other educational and outreach products from prior work in the northern Bering Sea:
A local community resident of Savoonga, Alaska, Mr. Perry Pungowiyi, was also able to join us on cruises in 2006, 2007 and 2008 on Healy. A report of his 2006 cruise observations prepared for the local Saint Lawrence Island Yupik communities (Savoonga and Gambell) is available at this link.
Polar bear seen from ship while sampling in Barrow Canyon (Video Quicktime .mov format)
Walruses on ice in Barrow Canyon (Video, Quicktime .mov format)

Even More Public Outreach Products Explaining Our Research, Including Video and Sound-only Podcasts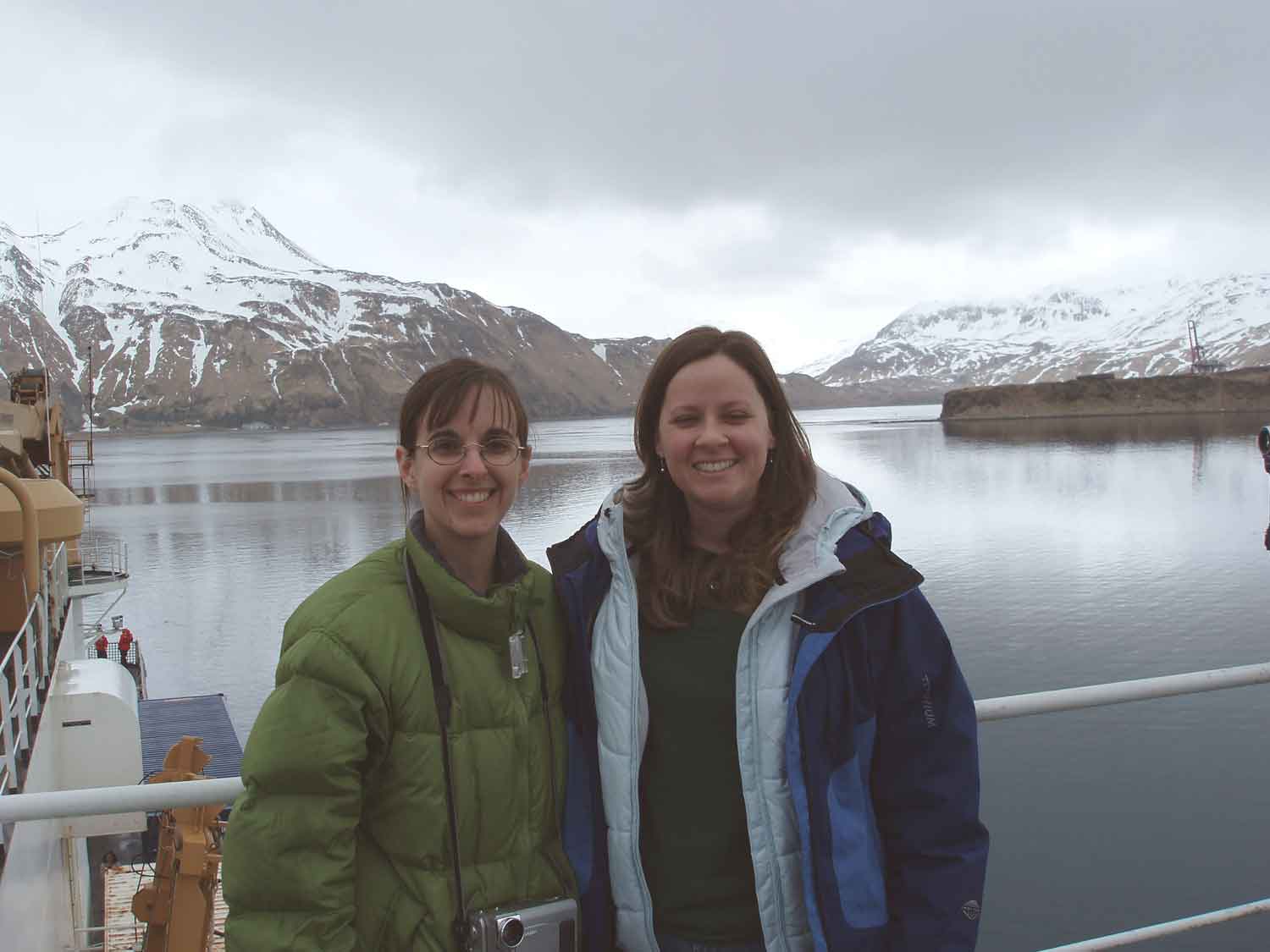 Educators Patty Janes (left) and Sam Barlow, both participants in the TREC (now PolarTREC program) onboard Healy. Port of Dutch Harbor and community of Unalaska in background. Patty Janes's website at: Scholastic Magazines - www.scholastic.com/globalwarming