ACTIVE PROJECTS U.S. Representation to the International Arctic Science Committee
Bering Ecosystem Study (BEST) and Bering Sea Integrated Ecosystem Research Program (BSIERP)
Chukchi Sea Offshore Monitoring in Drilling Area (COMIDA)
Pacific Marine Arctic Regional Synthesis (PacMARS)
US-Russia Census of the Arctic (RUSALCA)
Distributed Biological Observatory
***********************************************************************************
Bering Ecosystem Study (BEST) and Bering Sea Integrated Ecosystem Research Program (BSIERP). We are involved in both the BEST (supported by the National Science Foundation) and BSIERP programs (supported by the North Pacific Research Board) starting in 2008. General information on these two linked programs is available at a web site supported by the North Pacific Research Board: http://bsierp.nprb.org/index.htm. Work on our portion of this project is now coming to a close. We report below our activities, as well as some eductational outreach products that are available. These products include youtube videos, teacher research blogs, podcasts, and longer film and video clip projects that were filmed on the ship during the research effort.
Our efforts in 2008, 2009 and 2010 included the participation of our research team on three cruises of the USCGC Healy (March 2008; April-May 2008, and March 2009), two cruises of the Canadian Coast Guard Service Sir Wilfrid Laurier (July 2008, July 2010), and a cruise aboard USCGC Polar Sea in March 2010. We are studying the response of organisms that live in or on the sediments on the shallow sea floor of the continental shelf to the decline of seasonal sea ice. Warming water temperatures are leading to a northward migration of fish and other predators into the northern Bering Sea, where they are competing for some for some of the same food resources that walruses, gray whales, bearded seals, eiders and other ice-associated or ice-adapted animals use. These animals dive to the seafloor to feed on the rich benthic communities. As ice edge phytoplankton blooms become less prominent as the sea ice declines or retreats earlier in the spring, it is likely that the transport of rich organic materials to the shallow sea floor will be altered and the food web changed. We are studying the boundary of this south to north transition from a fish-dominated food web in the Bering Sea to a benthic dominated system in the north as our part of this much larger program that involves scientists from throughout the United States and other countries. Studies of the distributions of walruses in the Bering Sea in relation to food resources are part of our cooperative studies with other researchers as well as epibenthic surveys we undertook on cruises this year with an underwater video system.
Teacher and Researcher Journals From the Bering Sea:
Betty Carvellas' log from our July 2010 Sir Wilfrid Laurier trip from Victoria, B.C. to Barrow Alaska. Includes images from the ship.
Polar Sea 10-01 cruise field notes maintained by the North Pacific Research Board (http://bsierp.nprb.org/fieldwork/2010/polarsea01.html)
Mass media clips and articles:
ABC News Good Morning America Weekend feature on teacher Deanna Wheeler's experience
Plenty Magazine Article on Walrus Tagging and Bering Sea Change (.pdf file)
Walrus tagging efforts from Alaska News Nightly (Public Radio .mp3 file)
Baltimore Sun article on Healy 09-01 (.pdf file)
Video clips of Bering and Chukchi Sea bottom (20 MB, Quicktime .mov format)
Selected Cruise Reports
Cruise report from Healy 08-01 (.pdf file)
Cruise report from Healy 09-01 (.pdf file)
Cruise report from Polar Sea 10-01 (.pdf file)
In additon, some other educational and outreach products from prior work in the northern Bering Sea:
A local community resident of Savoonga, Alaska, Mr. Perry Pungowiyi, was also able to join us on cruises in 2006, 2007 and 2008 on Healy. A report of his 2006 cruise observations prepared for the local Saint Lawrence Island Yupik communities (Savoonga and Gambell) is available at this link.
"Panel Limits Northern Bering Sea Bottom Trawling" or download pdf version. Copy of article from the Anchorage Daily News describing new limits placed on northern Bering Sea trawling in June 2007. Principal investigators Cooper, Grebmeier and Lovvorn wrote a letter transmitted off the ship to the North Pacific Fisheries Management Council supporting protection of the rich benthic communities of the northern Bering Sea from industrial trawling.
Polar bear seen from ship while sampling in Barrow Canyon (Video Quicktime .mov format)
Walruses on ice in Barrow Canyon (Video, Quicktime .mov format)
Even More Public Outreach Products Explaining Our Research, Including Video and Sound-only Podcasts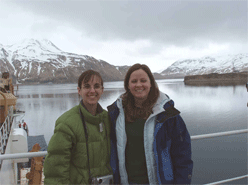 Educators Patty Janes (left) and Sam Barlow, both participants in the TREC (now PolarTREC program) onboard Healy. Port of Dutch Harbor and community of Unalaska in background. Patty Janes's website at: Scholastic Magazines - www.scholastic.com/globalwarming

***********************************************************************************

U.S. Representation to the International Arctic Science Committee
Jackie Grebmeier is the U.S. representative to the the International Arctic Science Committee (IASC) and also serves on the organization's Executive Board as Vice-President. IASC is a nongovernmental, international organization with the mission of encouraging, facilitating, and promoting the full range of basic and applied research in the Arctic, "encouraging cooperation and integration of human, social, and natural sciences concerned with the Arctic at a circumarctic or international level and providing scientific advice on arctic issues." The IASC Secretariat is based in Potsdam, Germany. IASC is a scientific associate of the International Council for Science and has observer status with the Arctic Council, a high-level forum for cooperation, coordination and interaction among the eight Arctic states, as well as indigenous communities and other Arctic residents. U.S. participation in IASC is coordinated by the Polar Research Board, a unit of the U.S. National Academy of Science. More information on U.S. participation in the organization is available on the IASC-USA website
***********************************************************************************

Chukchi Sea Offshore Monitoring in Drilling Area (COMIDA)
COMIDA is a Bureau of Ocean Energy Management (BOEM) research program we are participating in. Field sampling was started in July-August 2009 and July-August 2010, Goals of this open-water season sampling included anthropogenic chemicals associated with offshore oil and gas exploration in the Chukchi Sea, evaluation of changes in benthic biota, sediment chemistry analysis, and providing for geostatistical modeling of spatial and temporal trends using geographical information system technology. Besides the University of Maryland Center for Environmental Science, our other partners include scientists from the University of Texas at Austin, the University of Rhode Island, the Woods Hole Oceanographic Institution, the Florida Institute of Technology, Old Dominion University and the University of Alaska Fairbanks. More information about the research project is available at the project website.
We are now in a new phase of the project in 2012 that undertook work using the USCGC Healy in the Hanna Shoal area of the Chukchi Sea with continued support from BOEM. Hanna Shoal is an important walrus foraging area and an area where remanant ice often remains late into the summer. Our contributions to the project will include documenting benthic biological communities that may be important to walruses and other apex predators. A final cruise report on the Healy 12-01 cruise is available as a .pdf file at this link.
JC Parks Elementary School (Indian Head, Maryland) teacher Deanna Wheeler returned with us on the August 2012 cruise on Healy. Access her blog from sea here.
Video clips from the first phase of various Chukchi seafloor biological communities have been posted at the following link (free Apple Quicktime software required from www.apple.com/quicktime)
*********************************************************************************

Impacts of Climate change on the Eco-Systems and Chemistry of the Arctic Pacific Environment (ICESCAPE) is a NASA supported program we are participating in through a collaborative project with Dr. Karen Frey of Clark University. The title of our project is "The Potential Impacts of Sea Ice Decline and River Discharge Shifts on Biological Productivity in the Chukchi and Beaufort Seas"
Some of our efforts include measuring dissolved organic carbon in seawater and sea ice samples and using isotopic tracers to follow runoff in the North American Arctic. Other efforts have included making optical measurements beneath sea ice, which has shown high transmission of light through melt ponds (see abstract of paper published in Geophysical Research Letters). Field work was initiated in June 2010 using the USCGC Healy and a second cruise was in June-July 2011. Check the Icescapes blog for information on the sampling in 2011.
*********************************************************************************

Pacific Marine Arctic Regional Synthesis (PacMARS)
PacMars is a new joint effort to synthesize existing data and knowledge in the Arctic from St. Lawrence Island in the northern Bering Sea north into the Chukchi and Beaufort Seas. It is funded through the North Pacific Research Board's North Pacific Research Institute. The intent is to fast-track by 2013 a synthesis of existing knowledge and research gaps so that is will be available for federal agencies in designing appropriate future research programs. Serving stakeholder needs, including energy extraction and subsistence hunting are elements of this multi-investigator and multi-instiutional project that will also be guided by an advisory panel with representation from many government agencies. This is obviously an ambitious undertaking, but a talented team from many institutions and scientific backgrounds has been assembled to undertake this work. Lee Cooper and Jackie Grebmeier are jointly leading the overall effort. A separate PacMARS website has been constructed to provide information on the project.
*********************************************************************************

US-Russia Census of the Arctic (RUSALCA)
RUSALCA is a NOAA-sponsored program to document the long-term ecosystem health of the Pacific Arctic Ecosystem, particularly as changes are observed in climate forcing. A centerpoint of the work are periodic research cruises that visit both US and Russian waters to provide for comprehensive sampling irrespective of political or exclusive economic zone boundaries. Our work is particularly focused on benthic biological communities and associated sediment chemistry. Work by researchers at other US and Russian institutions is studying other components of the ecosystem. Some of our findings from the 2004 cruise that show decadal changes in organic carbon processing have recently been published in Deep-Sea Research II (see http://dx.doi.org/10.1016/j.dsr2.2008.10.025)
The most recent full-scale ecosystem cruises were in September 2009 and September 2012 in the Chukchi Sea aboard the M/V Professor Khromov, with University of Maryland participants Jackie Grebmeier, Monika Kedra and educator Betty Carvellas. Reports from the cruise on research activities and photos are available for both the 2009 and 2012 cruises through NOAA's Ocean Exploration program. The Reuters News Agency also reported/blogged from the ship in 2009. Betty Carvellas has provided a blog of research activities, including images of the research effort in both 2009 and in 2012, under the umbrella of the PolarTREC teacher program.
At the request of the RUSALCA program mangement, dowloadable files on expected data products and project investigator contact information is avaiable here: Current Data Inventory (xls.; as of November 2010) and project investigators and associates electronic addresses (.doc)
*********************************************************************************

Distributed Biological Observatory
One of the pressing needs for evaluating climate change impacts on biological systems in the Arctic (and globally) is the need for sustained observations of changes in biological systems. Biological observations cannot be automated to the same extent as many physical measurements can (e.g. salinity on moorings, etc.). As a result, there is much less scientific documentation of how biological systems are changing and/or adapting as a result of environmental change. We have been involved in a science planning process supported by the National Oceanic and Atmospheric Administration, National Science Foundation, the international Pacific Arctic Group, and the International Arctic Science Committee, to initiate more systematic biological observations in the Pacific Arctic sector as part of a Distributed Biological Observatory, DBO http://www.arctic.noaa.gov/dbo/, taking advantage of increased multi-national interest in the larger Bering Strait region. A workshop held in Seattle in May 2009, a town hall forum at the 2010 Ocean Sciences Meeting in Portland Oregon, and the feature article published in EOS, (the Transactions of the American Geophysical Society) on May 4, 2010 are part of the larger initiative. In 2011 two DBO open science community workshops were held, one during Arctic Science Summit Week in Seoul, Korea (March) and prior to the fall Pacific Arctic Group meeting in Sidney, BC, Canada (November); see workshop reports at http://pag.arcticportal.org/. A DBO pilot field program was held during 2010 and 2011, with multiple cruises occupying two DBO stations and transect lines in the SE Chukchi Sea and Barrow Canyon (see preliminary results at the DBO website). Jackie Grebmeier is the key contact for this effort (email address and other contact coordinates at top of page) and further information on the DBO effort can be found at the DBO website, http://www.arctic.noaa.gov/dbo/. Available at this link is a Powerpoint file describing the status of the initiative. This presentation was made in March 2012 at science planning meeting for the US Arctic Observing Network program.
The DBO effort for improving observations of the changing Arctic ecosystem has grown in attention among several US federal agencies over the past year. The concept is being incorporated into the Strategic Action Plan for "Changing Conditions in the Arctic" that is an objective of the National Ocean Council's effort for formulation of a National Ocean Policy for the United States, as directed by President Obama. Dr. Jane Lubchenco, undersecretary of commerce for oceans and atmosphere and administrator of NOAA, has also highlighted the DBO concept during prepared remarks at an arctic symposium in Washington DC. Development of a science planning office to promote international data sharing and coordination is also continuing with international partners.
Findings from the DBO effort were recently presented by Jackie Grebmeier, Lee Cooper and Sue Moore as part of the 2011 NOAA Arctic Report Card, pg. 84-87 ( in an essay entitled "Marine Ecology: Biological Responses to Changing Sea Ice and Hydrographic Conditions in the Pacific Arctic Region." Also, a 2012 paper on biological change observations in the Pacific sector by Jackie Grebmeier, entitled "Shifting Patterns of Life in the Pacific Arctic and Sub-Arctic Seas", is available as a free .pdf download from the Annual Review of Marine Science 4: 63-78, at:
http://arjournals.annualreviews.org/eprint/h5EEDPAXZTdyY6V5Tr9P/full/10.1146/annurev-marine-120710-100926
Coverage of the Distributed Biological Observatory concept also aired on the Alaska Public Radio Nework on April 14, 2011 (download the .mp3 file).
With support from the National Science Foundation, we are expecting to move forward in the near future with the DBO concept as a project incorporated into the Arctic Observing Network. Our work will use the Canadian Coast Guard vessel Sir Wilfrid Laurier to continue long-term water column and benthic sampling over the next five years, together with efforts to coordinate international sampling in areas of biological interest in the Bering and Chukchi Seas. A proposal to support this effort was funded by the National Science Foundation in September 2012, with collaborators Bob Pickart (Woods Hole) and Karen Frey (Clark University).
*********************************************************************************

SELECTED COMPLETED PROJECTS (with archived information saved as a public service; use caution with possibly outdated information, addresses, links)
Shelf-Basin Interactions---SBI Russian American Initiative for Land-Shelf Environments (RAISE)
Web page development by Lee Cooper (past work also by Kim Harmon, now with Office of Environmental Safety and Health, University of Tennessee, Knoxville)

<![if !supportEmptyParas]> <![endif]>